Sacred Heart Hospital Takes Surgery Beyond the Limits of the Human Hand
March 13, 2018 @ 10:00 am

-

12:00 pm
Sacred Heart Hospital Takes Surgery Beyond the Limits of the Human Hand
MIRAMAR BEACH, Fla. – Sacred Heart Hospital on the Emerald Coast has acquired the newest state-of-the-art da Vinci Xi® Surgical System, one of the most precise and least invasive surgical treatments available. Thanks to the newly advanced, robotic, computer and optical technologies, many patients at Sacred Heart will experience faster recovery with shorter hospital stay, smaller incisions with less discomfort and reduced need for pain medicine.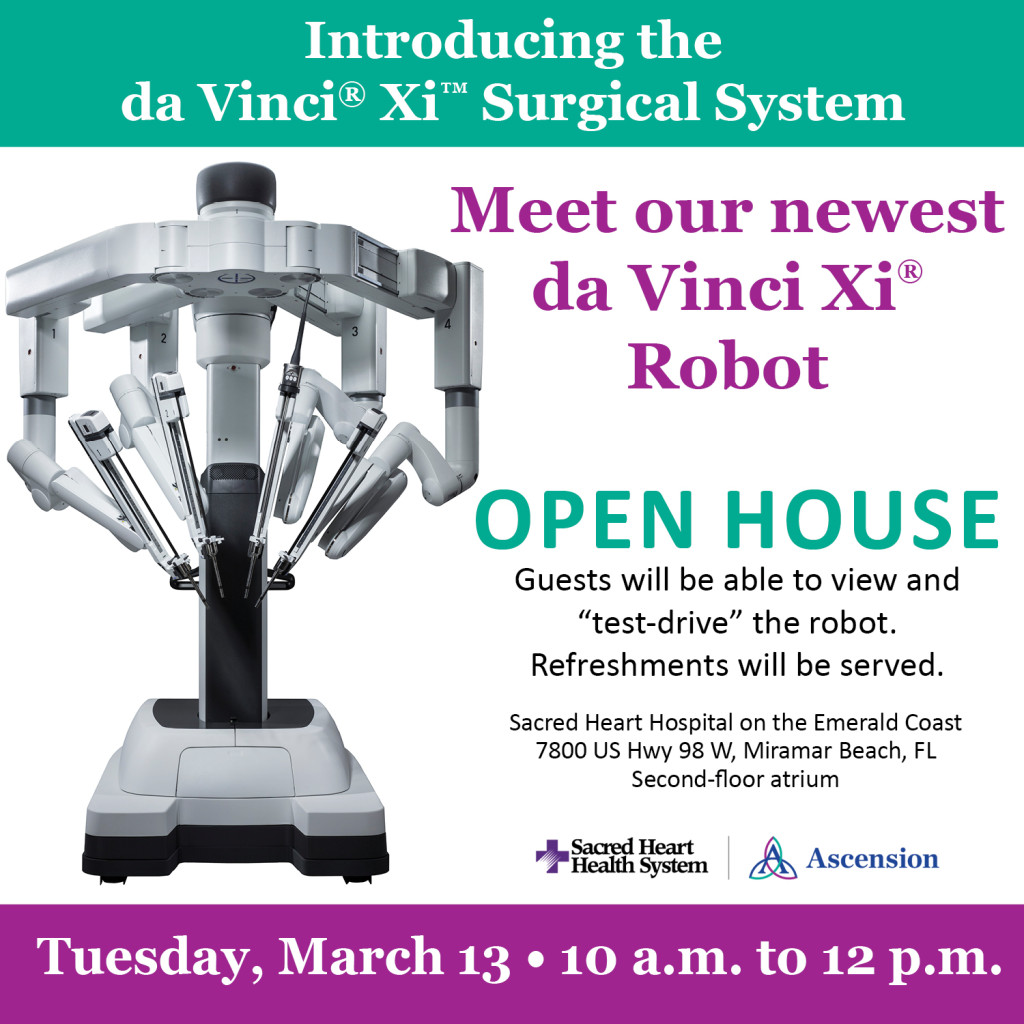 "Our community deserves the most advanced medical care we able to give them. This robotic system allows our patients to recover from surgery as quickly as possible," said Roger Hall, president of Sacred Heart Hospital on the Emerald Coast. "We are committed to being a leader in providing patients with minimally invasive treatments."
Gynecologic surgeon Dr. Glenn Bankert of Sacred Heart Medical Group is one of several highly skilled surgeons who will be using the new technology to perform minimally invasive surgery. Bankert has 3 ½ years of experience with robotic operations and has performed nearly 400 patient procedures using the da Vinci Surgical System at Sacred Heart Hospital in Pensacola and other hospital locations. Dr. Bankert's training was performed through the Intuitive Training Centers in Atlanta, GA. with additional specialized training at Intuitive Training Centers in Sonnyvale, CA.
"For our gynecologic surgery patients, this robotic technology means less pain, reduced blood loss, less scarring, shorter hospital stays and faster recovery times compared to more traditional surgical techniques," said Dr. Bankert. "We expect to see decreased rates of infection, decreased length of stay in the hospital and faster return to baseline function so patients are better prepared if they need to undergo additional treatment beyond surgery."
Robotic arms equipped with a camera are guided remotely by the surgeon's precise movements into the patient's abdomen or chest through small incisions, typically the size of a dime. Surgeons see high-resolution video and move up to four robotic arms remotely to perform procedures. The da Vinci Xi instruments have tiny mechanical wrists that bend and rotate to mimic the movements of the human wrist – allowing the surgeon to perform even the most complex and delicate procedures through very small incisions with great precision.
The da Vinci Xi System can be used across a wide spectrum of minimally invasive surgical procedures and has been optimized for procedures in which instruments must be able to reach up and down and across the abdomen or chest.
The new robot will be used at Sacred Heart in the following specialty areas:
General surgery
(such as gallbladder, hernia repair, gastroenterology, colon procedures)
Gynecologic surgery
Future Urologic surgery
"Robotic technology continues to advance and that allows our surgeons to perform more intricate and complex surgeries that are less invasive," said Dr. Gary Pablo, Chief Medical Officer at Sacred Heart. "We are pleased to be able to serve our patients with the newest robotic technology available in our region."
The community is invited to an open house and ribbon cutting event on Tuesday, March 13, from 10 a.m. to 12 p.m. on the hospital's second-floor atrium area for a meet-n-greet with our surgical team and a "test drive" of the da Vinci Xi robot. Refreshments will be served.
The newly advanced da Vinci Xi® system will also be available at Sacred Heart Hospital in Pensacola this June.
About Sacred Heart Health System
On the Gulf Coast, Sacred Heart Health System based in Pensacola, Florida, and Providence Hospital based in Mobile, Alabama, are part of Ascension. Together, these Ascension healthcare facilities have served Gulf Coast communities for more than 160 years and they employ more than 6,600 associates. Across the region, Ascension provided more than $113 million in community benefit and care of persons living in poverty in fiscal year 2016.  Ascension is a faith-based healthcare organization committed to delivering compassionate, personalized care to all, with special attention to persons living in poverty and those most vulnerable. Ascension is the largest non-profit health system in the U.S. and the world's largest Catholic health system, operating 2,500 sites of care – including 141 hospitals and more than 30 senior living facilities – in 24 states and the District of Columbia. For more on Sacred Heart Health System, visit www.sacred-heart.org.