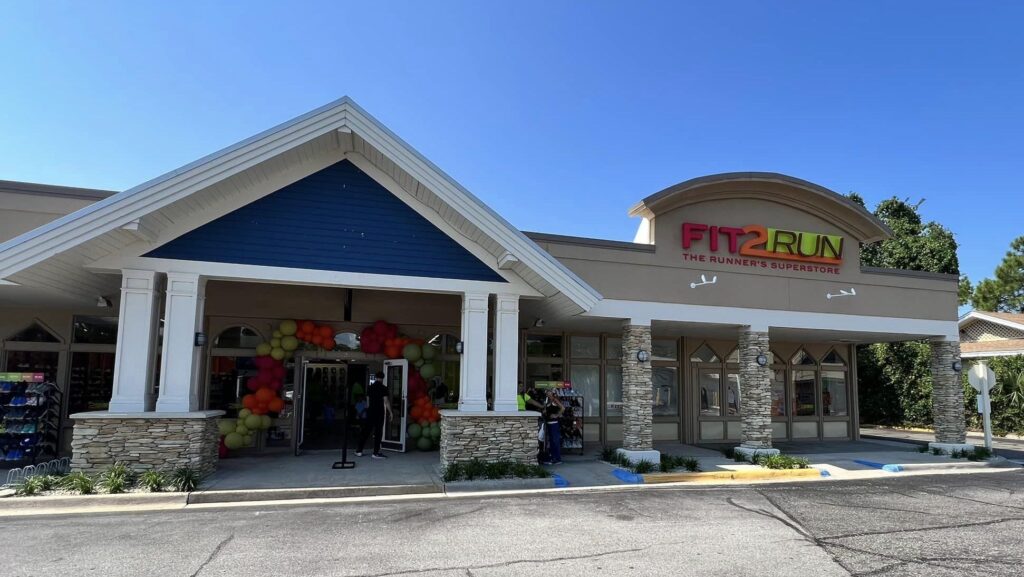 The Market Shops is pleased to announce their newest merchant, Fit2Run, officially opened its doors on Thursday, June 29.
Fit2Run is a family-owned and locally operated specialty running retailer that first opened in Sarasota, Florida in 2006. Founded by second- and third-generation retailers, Bill and Parks Robinson, Fit2Run was created in order to provide exceptional service and assortment in the running industry niche. As a company, they are dedicated to supporting local communities with resources to promote a healthy lifestyle, with an emphasis on selection, events, and above all, service. The Market Shops store marks the 27th location for the Fit2Run brand, with other retail locations spread throughout the state of Florida as well as Puerto Rico.
"We wanted a space that would be easily accessible to runners and walkers alike," said Fit2Run marketing director Alex Dougherty. "Being directly off Highway 98, and just outside of Sandestin Golf and Beach Resort, we felt this spot was perfect for the area where there isn't any other running specialty retailer around."
Located on the far west side of The Market Shops, the newest Fit2Run location occupies 4,795 square feet of retail space. Known as "The Runner's Superstore", Fit2Run offers men's and women's athletic apparel, footwear, and accessories from top brands including ASICS, Brooks, Free People Movement, HOKA, lululemon, On Cloud, and Vuori. Unlike other athletic stores, Fit2Run offers custom fit evaluations, which include a foot scan, measurement, and gait analysis on the store's treadmill. Their specialized staff will record the customer's running position, gait, and foot placement in order to gather more information and help find the perfect shoe tailored to their needs.
"This will be a new market for Fit2Run, and we are excited to see our store at The Market Shops thrive within the Miramar Beach and Destin communities," Dougherty said.
The new location will bring 15-20 jobs to the community. Fit2Run is actively hiring associates and those interested can apply online at https://indeedhi.re/44cpj6y. Fit2Run at The Market Shops will be open Monday- Friday from 10 a.m. – 6 p.m. and Saturday- Sunday from 11 a.m. – 5 p.m.
To learn more about The Market Shops and its list of merchants, visit www.themarketshops.com.